An SKF Bearing housing,
together with appropriate SKF bearings constitute economic, interchangeable bearing units that meet the demand for designs that are easy to maintain.
As a leading supplier of rolling bearings, SKF also produces bearing housings in a wide range of designs and sizes that are based on experience collected in all industrial areas.Among others, SKF bearing housings have the following advantages
(1)large assortment of design and sizes
(2)high quality of bearing housings design and manufacturing
(3)worldwide availability
SNL plummer (pillow) block housings (fig 1) up to size 32 are the most popular of the wide range of SKF housings. Because of their versatility it is seldom necessary to resort to tailored housings for specific applications.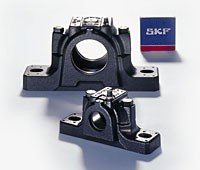 The housings are horizontally split and have two or four attachment bolt holes in the base as standard.
Building block system
The basis of the SNL plummer block housing system consists of a number of housings of the same design but in different sizes. By combining these housings with different standard seals a wide variety of housing variants, all belonging to the standard range, can be supplied (fig 2). SNL plummer blocks can accommodate shaft diameters ranging from 20 to 160 mm.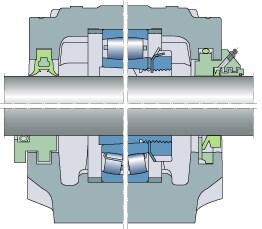 Reinforced base

The housing base is reinforced with ribs and extra material surrounding the holes for the attachment bolts in order to improve seating on the base plate (fig 3). The attachment bolts can be preloaded to give better location and cannot deform the housing base or housing bore.

Attachment
SNL housings have two attachment bolt holes in the base as standard. Housings of size 511-609 and larger are also available with four cast attachment bolt holes as standard, designated FSNL. These larger housings are also available without attachment bolt holes (blank base, designated SSNLD), but only made of ductile cast iron.
Also the smaller housings below size 511-609 can be used for four bolt mounting. Cast indications show where to drill the additional holes.
Good heat conduction
The extra ribs the housing base (fig 4) provide additional surface area between the base and base plate to improve heat flow away from the bearing.
Relubrication facility
SNL housings are supplied with a grease nipple. Two tapped holes for the nipple in the cap are standard. Cast indications mark other grease nipple locations for relubrication of the bearing or the seals (fig 5).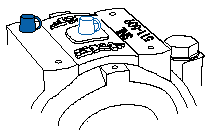 Caps and bases individually marked
The housing base and cap are matched during manufacture and are not interchangeable. To prevent mixing, the same consecutive number is marked on the cap and base of each individual housing (fig 6).

Mounting aid
To simplify mounting and make alignment more accurate, cast indications in the end faces of the housing
base indicate the housing bore axis and the vertical axis (fig 7).

Mounting instructions are also supplied with each housing.
Indications for holes to accommodate other components

Cast indications mark the positions where holes can be drilled for dowel pins, sensors for condition monitoring and additional grease nipples (fig 8).